Hubby and I visited Edirne over the Easter weekend and came home with enough wine and cheese. It was a breeze to drive there from Canakkale and I've found some foodie secrets.
But before food, let's get over and done with the much-talked-about sight, Selimiye Mosque.
There are three mosques surrounding the main square including Üç Şerefeli(three balconies) Mosque with three minarets in a unique Seljuk style.
Selimiye Mosque… commissioned by Selim the Drunkard, is the magnificent masterpiece of Mimar Sinan. Yes, it was grand and different in style, the most distinctive feature being the 8 pillars, instead of the usual 4, supporting the gigantic dome, which surpassed that of Hagia Sophia in the diameter. Sadly, my food lens failed to take it all in.
One of many myths about the mosque is the reversed tulip carved on one of the marble stands, and if you're curious, look for it while admiring the intricate paintings and motifs.
Another myth is that when you first arrive in the city from the Istanbul direction, you can only see two minarets(towers) and all four become visible as you get closer to the centre. It was really true!
You might like to spare some time for the Health Museum, which is a historical hospital built in 1488 and gives a lot of information about medicine and medical services of the Ottoman era.
Particularly interesting was how patients with mental disorders were treated (read the description in the photo below). I also learned how smallpox inoculation was introduced to England in the 18th century and even theriac (pronounced as teriyaki in Greek!) sauce! Well, it was hubby's joke and I found it funny.
For me, it was interesting to compare it with my knowledge of Oriental medicine, which many Koreans still practice in everyday life.
Ok, now we're done with history so let's eat!
We started with the famous local food, Ciger Tava(fried liver) at Aydin Tava Ciger. I had my doubts saying how different fried liver can be from the ones I ate in Istanbul but I was totally wrong.
It was very different indeed. Fresher, lighter, and yummier, especially with this special crispy fried chillies, which you eat very little by little. We bought a big batch of this dried chillies to take home.
Next, we tried almond paste(marzipan), which wasn't as good as the one in Istanbul so I bought an almond cookie (acibadem), which was original and good! It was worth 10TL, which is a double price.
While walking around, we ran into Arda Wine shop so we went inside to check it out and tried an interesting local drink called 'Hardaliye'. It's made of grapes, sour cherry leaves and black mustard seeds. You should definitely try it when in Edirne. It would have been nicer with alcohol but well…
The main reason for our visit was actually to meet someone who is passionate about horses. The avenue leading to the farm was very charming, lined with trees, flowers and stones.
This street often goes under water in floods, sometimes 1 meter deep! Can you believe it?
There are two stone bridges and from here, you can watch the beautiful sunset over the river, called Maritsa(Meriç).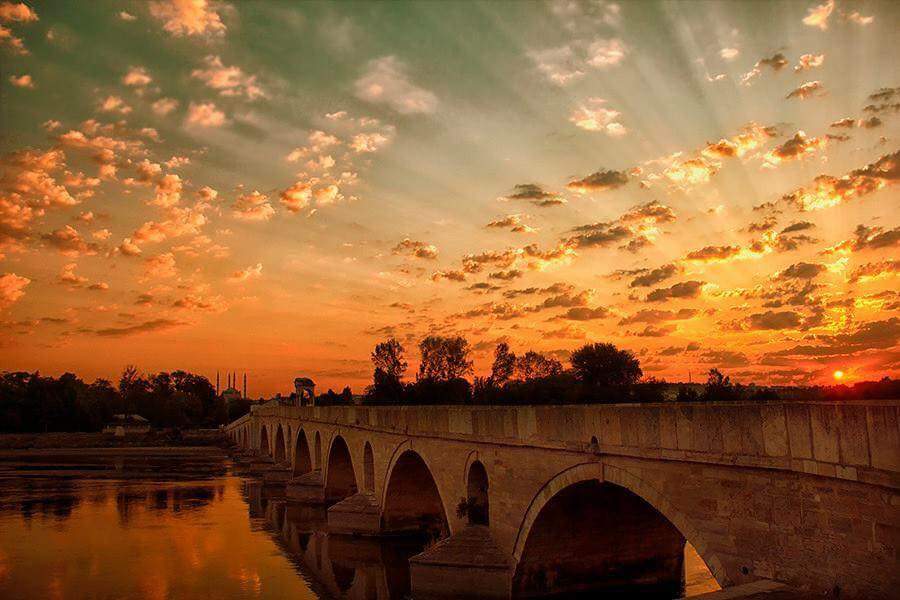 It flows from Bulgaria and the longest river in the Balkans, forming borders between Bulgaria, Greece and Turkey. One of the streams is called 'Arda', hence the name of the winery we'll visit later.
You can see the magnificent Selimiye Mosque through the arch.
Sella Turcica, is a horse-riding centre where people can ride a horse or enjoy the day and evening in the nature with animals, food and music. Uğur is a good friend of hubby's and it was great to see him doing well with his passion.
Now I'm working on my new career, a jockey! There are 9 beautiful horses with different personalities and the English horse, the biggest and the strongest is about to eat hubby's hand off.
I love horses, maybe because my zodiac is Horse, and they love me, too because I'm light!
Oh, who's here? What a coincidence! We met the owner of Arda Winery by chance, who came down to check out some horses, so we confirmed our visit to the winery later on the spot.
This place is only 1 km from the border to Greece so I took the opportunity and walked over to the other side with a small backpack the next day for some fun, The whole journey took two hours, which makes the shortest country hopping ever! You should try it when you're in Edirne next time.
Finally, we visited Arda Winery on the way back home. The location was great and it was the most pleasant drive to a winery we'd done in Turkey.
It's a small family run winery built in the gravity flow system using stone and firebrick. The daughter is the winemaker and the son, Yavuz gives a winery tour. The cellar is located 7m underground so it's very cool and we shivered a little. We sampled a range of wines from barrels and tanks.
It's the Narince he's pouring. It had a lovely floral nose with a fuller mouth feel and bright acidity. The Rose, made from Shiraz, seemed promising, too. They have some secret experiments underway so we'll see what will come out.
Considering the location of the vineyards, their wines seem to exhibit relatively cool characteristics and that's why their Shiraz was less jammy than many Turkish Shiraz. French and American barrels are used for different blends and they've won medals from Mundus Vini, and most importantly, for wine lovers, their Bird wines are great value.
We finally got out of the cold cellar and to the sun! Yavuz, who had suddenly disappeared, reappeared with a cheese platter, which was a lovely surprise. The real Trakya Kasar cheese!
I compared the tasting note I made a while ago for C. Sauvignon 2012 to this 2014 vintage and it was different and better. I'll open others including Shiraz Reserve in the coming weeks and let you know.
What a fantastic surrounding to spend a weekend afternoon in! Don't miss visiting Arda Winery and stocking up your cellar if you are around Edirne since it's so easy to get to.
We're not done yet. We still had our final mission to accomplish, the Uzunkopru Kofte. Different regions boost different styles of meatballs and we were told to try them and apparently the best place is near the world longest stone bridge, Uzunkopru.
Since we had meatballs at GaziBaba Meyhane the previous evening, we ordered one kofte and one lamb roast. The meatballs weren't up to our expectations and the meatballs at GaziBaba were much better. Why Edirne meatballs are famous? They are bouncy like a cushion and meat is supposedly minced with a special knife, not a mincer.
If you haven't visited Edirne, you should! Would I visit it again? YES!